Readers: Spoiler Alert! Don't read if you haven't seen the movie.

House on the Haunted Hill
follows a millionaire, Frederick Loren, played by the brilliant Vincent Price, and his contestants as they play a game in an old house believe to be haunted. The goal: stay for an entire night without dying. At the same time, Vincent Price's Loren deals with his fourth wife, Annabelle, (Carol Ohmart) who is less than interested in playing this game. All of the contestants, predictably, have ulterior motives for wanting to win the game, most desperately using the money to save themselves. If this movie was being made today, things would quickly devolve into a dog-eat-dog reality show. The contestants are not all the kind to stick their necks out for one another, but they do show a lot more caring for one another than the average reality show contestants do.
The film is beautifully shot. The use of shadows in this movie is particularly impressive. Early on, there's a scene in which Nora (Carolyn Craig) is stuck in the basement, and th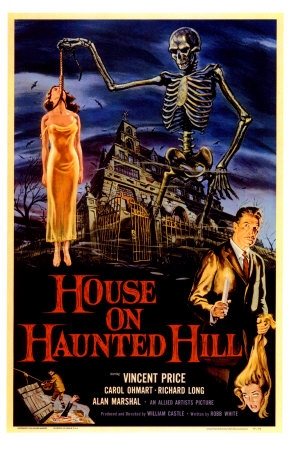 e light pools around her and Lance (Richard Long) in just the right way.
And, unsurprisingly, Vincent Price gives another wonderful performance. Price's performance when interacting with his wife is particularly interesting . The story seems to be written with the wife being the villain, the one that the audience is suppose to root against. But Price is so menacing in the scenes with Annabelle that it's clear he is abusive, probably to the point of being a murderer, since it's stated in the movie that all his other wives have since died under mysterious circumstances. Price's performance subverts the intention of the script and complicates the movie. As modern viewers, we're left to pity his wife, who dies trying to save herself from two unfortunate options. Price becomes the villain, one who is, by the end of the movie, triumphant.
This is definitively one of the better old horror movies out there. The special effects are not impressive, but few movies from this time hold up against CGI and hyped movies like
Avatar
. Price's performance and the cinematography make it worth watching.