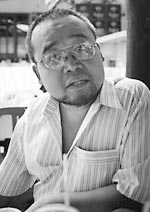 Linh Dinh, better known as a poet but also a fiction writer, has
just won the Balcones Fiction Prize for

Love Like Hate
, which explores characters in Vietnam. Dinh himself was born in Vietnam and often depicts characters who are marginalized because of their race or place within a national framework.
I
reviewed Dinh's poetry performance in New York City last December
, if you're interested in hearing more about him as a poet.
Congrats Dinh!